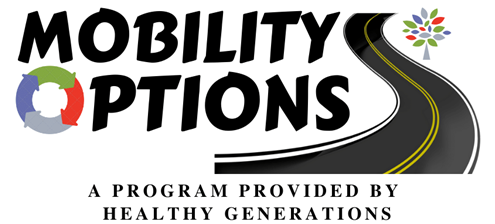 Transportation services provide a vital connection to our community. Mobility Options, a program funded in part by the Virginia Department of Rail and Public Transportation, provides transportation education, information, and referral services, complimentary regional training, and shared ride services to Fredericksburg area seniors and people with disabilities.
Transportation Education, Information, and Referral Services:
Before You Give up the Keys – A resource available through the National Aging and Disabled Transportation Center to help learn, prepare, and act to "Create a Roadmap for Transportation Independence".
Transportation Resources Guide  – A comprehensive guide that includes information about public and private transportation providers, taxi cabs, and app-based transportation companies that serve the Fredericksburg Region. To be added to our Provider Guide, please contact us!
Virginia Transportation Navigator – A comprehensive Information System helping identify Transportation Options throughout Virginia
Regional Public Transit and Travel Training:
Let's FXBGO!– FXBGO! Fredericksburg Regional Transit provides accessible, affordable, and safe public transportation throughout the Fredericksburg region, including the City of Fredericksburg, Spotsylvania County and Stafford County. Healthy Generations Mobility Options program supports FXBGO! by offering complementary Travel Training Services to area seniors and people with disabilities who have access to the system.
Why Transit? It's cost effective, reduces traffic congestion and air pollution, fosters independence with same day travel and no need to make advanced reservations, and it promotes healthier habits! We are proud to partner with Fredericksburg Regional Transit and invite you to try transit!
What is Travel Training? A free educational program designed to help interested users be safe and gain confidence while learning to navigate transit system. One-on-one and group training is available. Our Travel Trainer is also available to provide Train-the-Trainer programs to interested businesses, agencies, or groups who want to teach others. Let's FXBGO!
Travel Talk – Visit on Facebook! Travel Talk is a series of videos and Facebook Live events in which we provide virtual travel training, travel app tutorials, and engage with our community partners to talk about transportation and transit.
Shared Ride Services:
Shared Ride Service or Shared Use Mobility is a publicly available transportation resource in which riders share a vehicle. Our shared ride service is available to seniors aged 60 and older, and adults with disabilities who do not have access to FXBGO! For more information, please review our Mobility Options Shared Ride Service User Guide.